Unlocking the full power of Identity to enable people, economy and society to thrive - A year in review - February 2023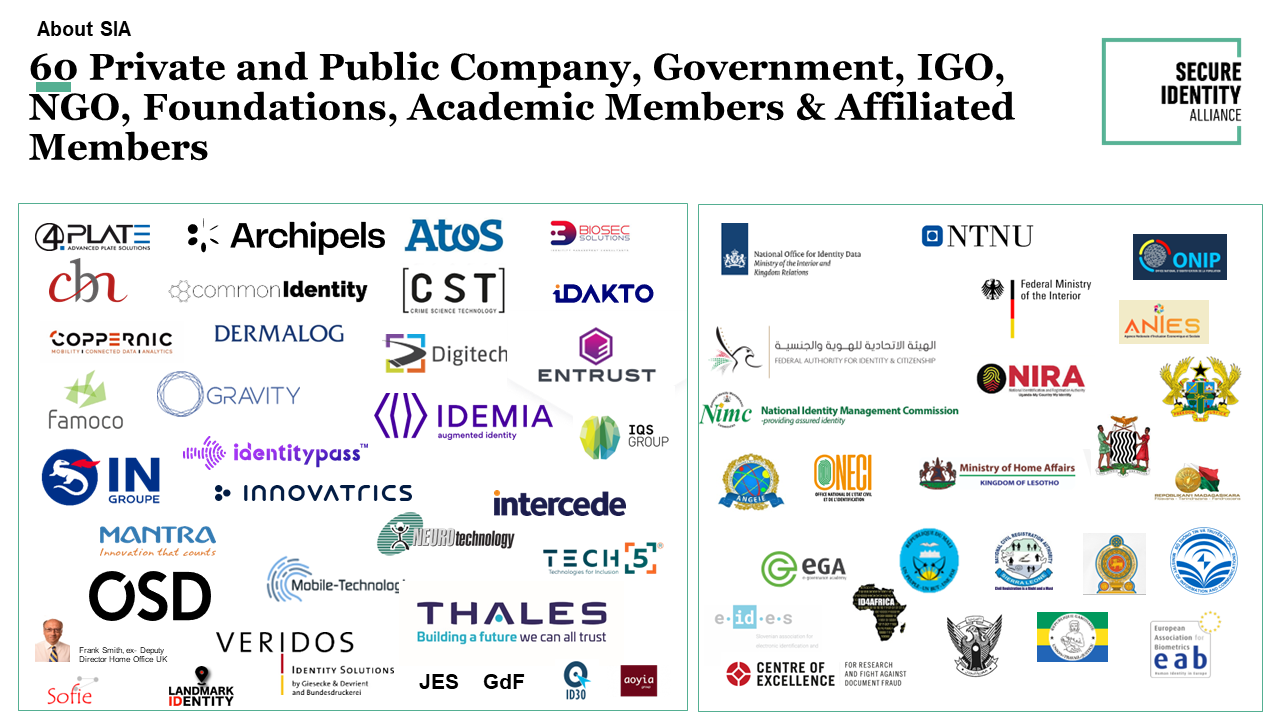 Dear Colleagues,
As we enter our 10th anniversary year, SIA is excited to announce a major step in enabling our mission to unlock the full power of identity for social and economic good. The work – to become more international, more open and more determined to build further on SIA's collaborative DNA – began in 2022.
This year, we're pleased to report that our plans have come to fruition!
Now, having changed our registration to become a non-profit "Association Sans But Lucratif (ASBL)" under Belgian law, SIA is more inclusive and more global than ever.
This evolution has been recognized by the International Telecommunication Union (ITU) , a United Nations specialized Agency based in Geneva. SIA has been awarded an ITU-T A.5 qualification. This allows normative reference to text produced by the Alliance – including the OSIA (Open Standards Identity API) specifications.
We have engaged in many more collaborations than ever before – with governmental and inter-governmental organisations, international financial institutions, non-governmental organisations and others. These included the World Bank Group, Global Assured Identity Network (GAIN) initiative, Open Wallet Foundation, Tony Blair Institute, ICAO, ID4Africa, Document Security Alliance.
Our membership has increased, we have delivered a host of submissions, reports and guides, in more languages. And we've launched the OSIA global qualification program to support the growing number of government bodies looking to introduce an OSIA qualification as a solution pre-requisite during their tendering processes.
Some things haven't changed. We still believe that the root to trusted digital identities is based on government-issued identities or those based on properly regulated secure credentials. And we remain solid in our commitment to interoperability in driving future-proofed, secure and inclusive ID ecosystems globally – which are absolutely necessary to building trust in today's digital world.
Of course, none of this would have been possible without the support of our members, affiliated members and partners. We'd like to take this opportunity to say 'thank you' and wish you all a successful 2023.
The SIA Team

­
New Year – New Governance
The Alliance is now registered as a non-profit "Association Sans But Lucratif (ASBL)" under Belgian law, with a seat in Brussels. The previous entity will be phased out.
This significant development not only ensures that SIA's not-for-profit status is more visible, it highlights the global nature of the organization. Crucially, with open governance a key priority, this move underlines our commitment for ever-greater inclusion and transparency by:
Allowing non-European headquartered organizations to become Members and ensuring we're able to embrace the full identity ecosystem and adjacent industries – including non-profit foundations, think-tanks, associations and consultancies.
Adapting our fee structure to the financial capabilities of industry stakeholders, as reflected by their turnover.
Continuing to welcome, free-of-charge, government, and academic stakeholders as 'Affiliated Members'.
Creating two colleges, one of which is dedicated to the development and maintenance of open standards – including OSIA.
New Year – New Chair
The beginning of 2023 also marks a transition from IDEMIA PSI CEO Matt Cole to IN Groupe President & CEO Didier Trutt as Chair of the Board of the Alliance. Veridos CEO Marc-Julian Siewert has become Vice-Chair.
Didier Trutt was appointed President & CEO of IN Groupe (the new company name of Imprimerie Nationale) in September 2009.
As a qualified engineer, from the Ecole Nationale d'Ingénieurs de Saint-Etienne, Didier Trutt joined Groupe Thomson in 1984, where he spent most of his career abroad, primarily in Asia. He has held successive mandates within major Groups, including Videocon, TCL and Nexter. He is State Representative on the Board of Directors of Française des Jeux and RATP. He has also been a French Foreign Trade Advisor since 1992.
A growing global community
Membership of the SIA continues to grow at a pace. The collaborative work of Members, Affiliated Members and Partners is having a profound impact on public and private identity actors, the marketplace and society as a whole.
If you are active within the identity space and want to advance positive ID policy, promote innovation, interoperability, security, privacy and open standards in the implementation of identity frameworks, please contact us.

­
International collaboration and partnerships
Collaboration and dialogue are key to inform the latest developments in the identity technology sector that will affect public management of identity in the years to come. SIA, as the reference organisation for secure identity, has continued building and extending its dialogue and collaboration with many organisations, including:

World Bank Group
SIA moderated several private sector workshops on key digital public infrastructures at the World Bank with the Digital Development Global Practice and at the Inter-American Development Bank.
These discussions highlight the importance of partnerships between financial institutions, countries and the private sector to help the global community respond to today's polycrisis (climate, extreme poverty & geopolitical issues).

GAIN
SIA has joined the Global Assured Identity Network (GAIN) initiative to support efforts to develop a high-trust Internet overlay that introduces an accountability layer to the internet even as it increases privacy and security. The principles are expressed in its Digital Trust White Paper. SIA will collaborate with members to ensure that progress towards the initiative's goals will best serve the wider identity community.

Open Wallet Foundation
SIA has joined the Open Wallet Foundation (OWF) – the global body developing an open source engine to enable secure and interoperable multi-purpose wallets. The OWF aims to set best practices for digital wallet technology through collaboration on open source code for use as a starting point for anyone wishing to build interoperable, secure and privacy-protecting wallets.

Tony Blair Institute
Modernising Digital-ID Systems: What Open Standards and Open-Source Software Really Mean joint-commentary is striving to help governments understand different technology concepts and futureproof their digital-ID systems in the most efficient manner.

NTNU
Applying the "LINDDUN-Based Privacy Threat Modelling" to implemented systems incorporating the OSIA APIs, the NTNU study was presented at IEEE Nigeria 4th International Conference on Disruptive Technologies for Sustainable Development (NIGERCON 2022) in Abuja, Nigeria. It was published at IEEE conference proceedings and is available here.


ICAO NTWG and ICBWG
Through SIA's Document Security Working Group's eSEC initiative, a successful working relationship with ICAO's NTWG and ICBWG has been established. The purpose is to add a 'security standards' functionality to the SIA eSEC 2.0 tool. This functionality displays whether a proposed document follows the ICAO 9303 Part 2 recommendations i.e. contains the list of basic security features that ICAO considers essential for any travel document. The work dovetails nicely with ICAO's broader 9303 compliance programme.

Document Security Alliance (DSA)
SIA has signed a Memorandum of Understanding (MOU) with the Document Security Alliance (DSA). This aims to raise awareness of the role and importance of security documents and their place in a secure identity ecosystem, and to disseminate this insight to relevant global audiences.


ID4Africa
SIA participated actively in the annual General Meeting, in several webinars on mobile identity and key digital public infrastructures and supported the September 16th as International Identity Day campaign.


Working Groups: Policy Guidance and Best Practices for Implementation
Output across all our Working Group programmes continued as disruptive technologies and policy decisions fuel the need for secure and seamless, truly inclusive and protective ID frameworks that are capable of bridging the physical and virtual worlds.

New reports: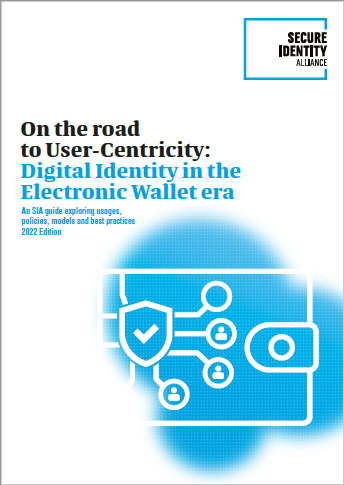 On the Road to User-Centricity: Digital Identity in the Electronic Wallet era
This paper offers a detailed overview of digital identity and the use cases driving digital identity wallet adoption. Importantly, it uncovers the key architecture trends, standards and data models that should be considered when implementing wallets for functional digital identity.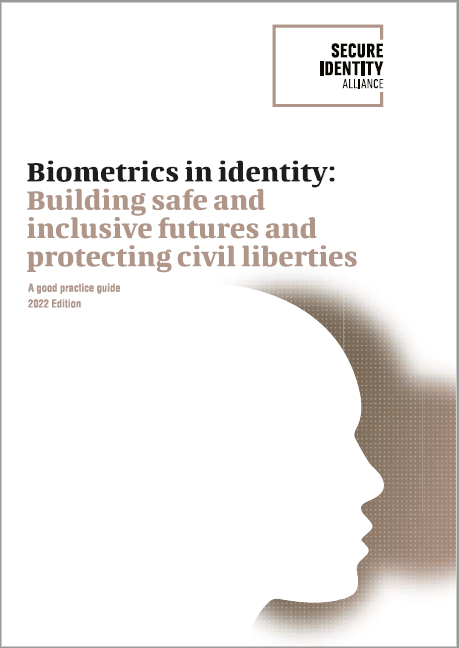 Biometrics in Identity: Building Safe and Inclusive Futures and Protecting Civil Liberties
This report identifies the key issues and drivers for biometrically-enhanced identity, insights into current and forthcoming projects and provides a set of common best practices and recommendations to support policy makers looking to leverage biometric identity to drive and accelerate the digital economy across the globe.

Now available in
French

and

Spanish

: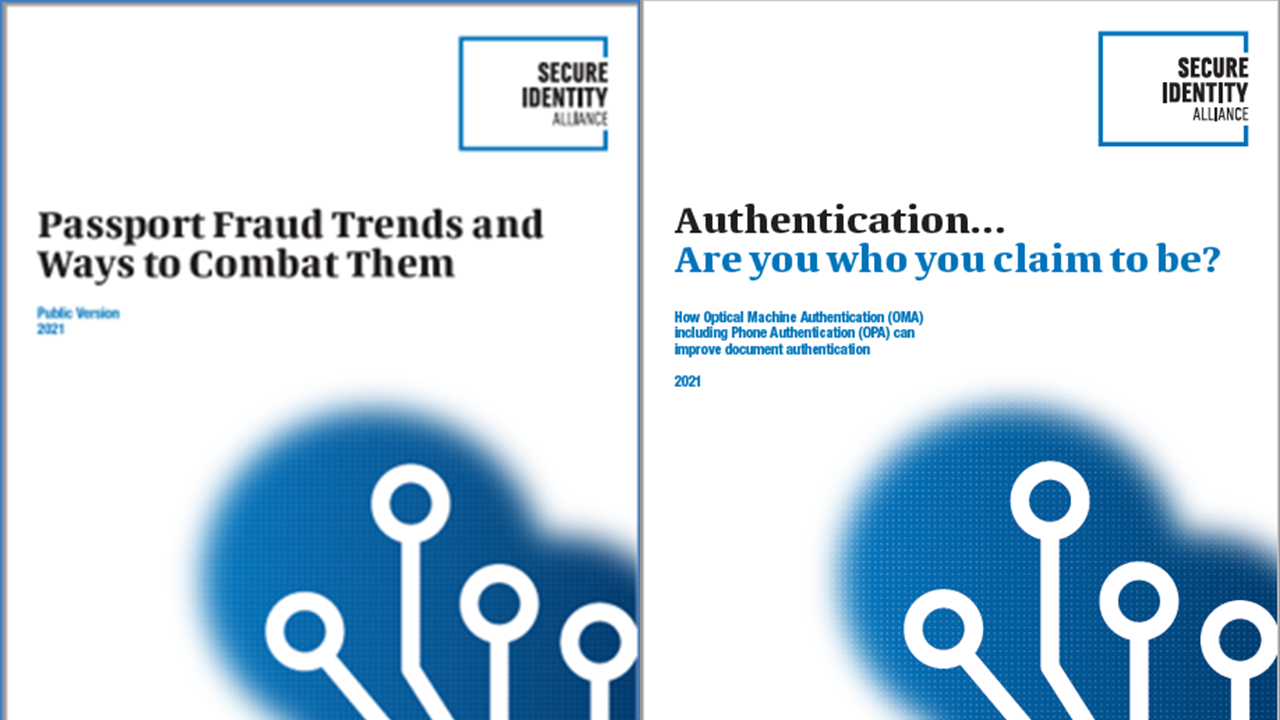 Passport Fraud Trends and Ways to Combat Them
Authentication… Are you who claims to be?
OSIA Initiative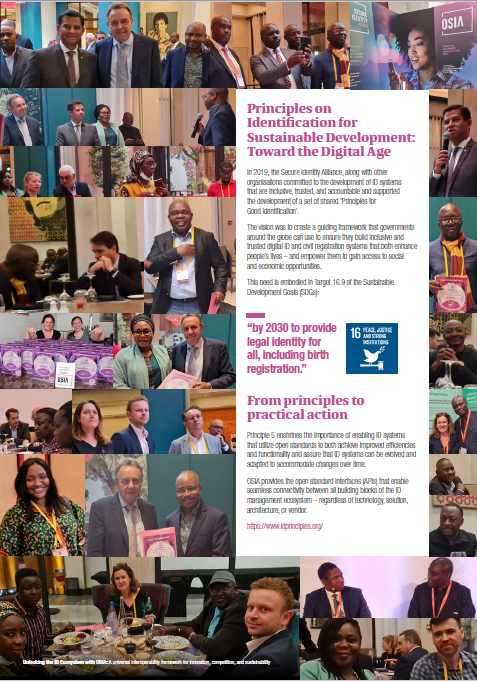 We're happy to announce that OSIA v6.1.0 specifications were released at the close of 2022 and that the OSIA qualification programme announced mid-2022 is now live!
The OSIA global qualification program aims to support the growing number of government bodies looking to introduce an OSIA qualification as a solution pre-requisite during their tendering processes – thereby enabling the government/industry collaboration needed to build open, innovative and future-proofed national identity systems.
OSIA (Open Standards Identity APIs) is a non-profit initiative launched by the Identity Industry with the support of a Governmental Advisory Committee which has developed an open standards framework as a Digital Public Good for the interoperability of identity systems. OSIA's aims are to promote innovation, guarantee a level playing field for all market players (owner, open source, large companies, SMEs, start-ups, local and international etc.) and allow States to preserve their digital sovereignty and their freedom of technological choice while lowering the costs of integration.

Communicating on the world stage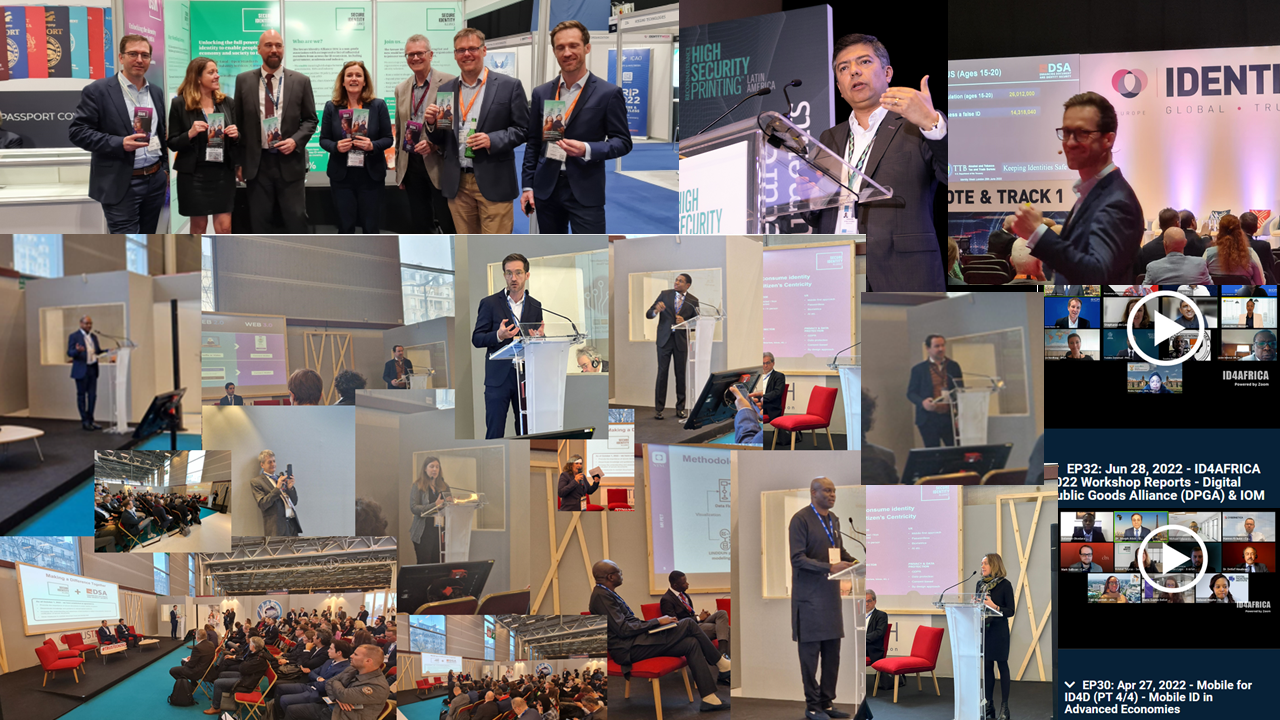 Through our publications and our attendance at key events in the ID calendar, SIA continues to build on its reputation as the reference organisation for secure ID. In addition to promoting the importance of secure physical and digital ID, support post-covid potential in border control for safe, seamless, trusted and convenient passenger journey experience, we continued to advocate the importance of ID ecosystems interoperability, and open standards.
In 2022, the SIA attended, presented at a number of global forums, conferences and online events. We'll be happy to continue supporting and participating in these key events in the ID calendar in 2023:
• Identity Week (Amsterdam, Washington and Singapore)
• ID4Africa, Nairobi, Kenya
• ID & KYC Forum @ FIC (Lille, France and Toronto, Canada)
• Reconnaissance Optical and Digital Document Security (Prague, Czech Republic)
• Reconnaissance HSP (Abu Dhabi, UAE - Nassau, The Bahamas and Colombo - Sri Lanka)
• APSCA & IOM BMIC (Bangkok)
• Trustech (Paris)