Passport Fraud Trends and Ways to Combat Them - Webinar Replay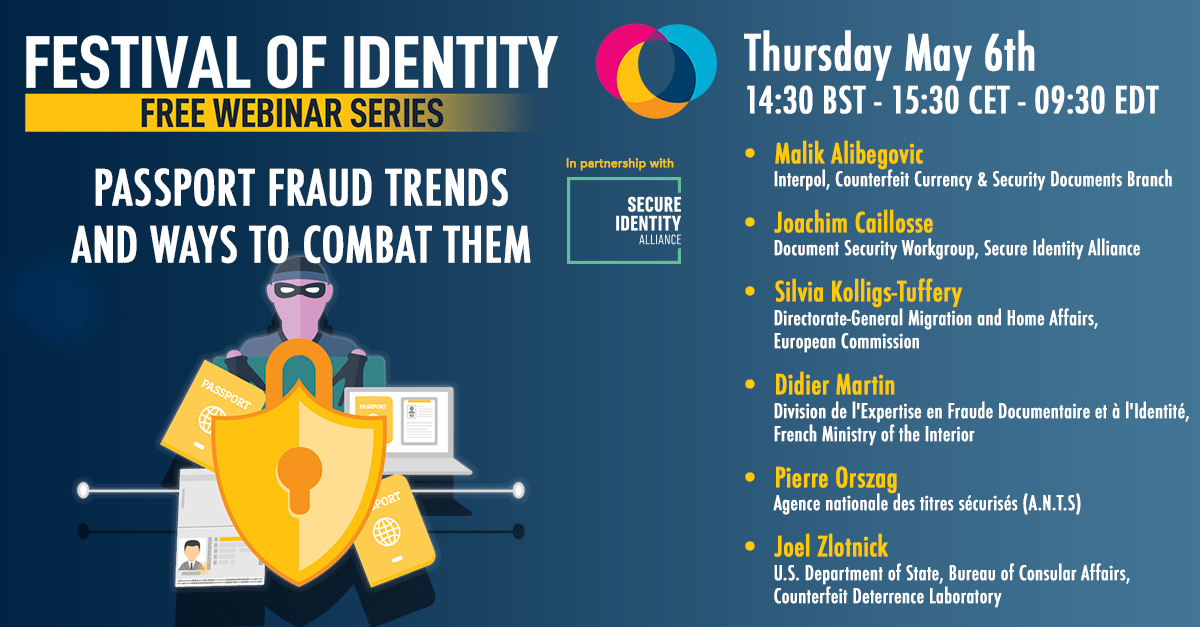 Passport Fraud Trends and Ways to Combat Them
Webinar Thursday 6th May 2021 - 14.30 BST - 15.30 CET - 9.30 EDT
REPLAY: https://www.youtube.com/watch?v=xqv1Ct_WemY
Document fraud, specifically the counterfeiting and forgery of travel documents such as passports, represents a significant threat to everything from personal identity to national security.
The consequences of illegally modified or reproduced travel documents are many and varied. From reputational damage to the issuing country and document manufacturer, to the numerous onward possibilities, such as financial crime and terrorism, the creation and use of false travel papers can have an impact that goes far beyond personal inconvenience.
The good news is that issuing authorities now have access to a greater arsenal of deterrents and countermeasures than they ever have before. Today, passports can be equipped with a range of security features that would have been all but impossible to employ just a few decades ago. From biometric chips to optical features for security paper and polycarbonate, continual innovation in document components has created a plethora of ways to prevent or highlight illicit imitation or modification.
This Festival of Identity webinar – presented in association with the Secure Identity Alliance (SIA) – will bring together a range of experts to explore current passport fraud trends and look at some of the solutions and techniques on offer to help combat them.
Underpinning the webinar, is the launch of an in-depth SIA report into this subject. Two versions of the report are available – a public facing version and a more in-depth version for issuing and law enforcement authorities only.
• From opening bank accounts to human trafficking and terrorism, this webinar explores the big picture surrounding the impact of passport fraud.
• The webinar will also examine the main types of document fraud being seen across the world today (illustrated by new schematic images) and explore some of the technical solutions available that could help issuing authorities and law enforcement agencies keep one step ahead.
• Get access to an in-depth report from the Secure Identity Alliance's Document Security Working Group.
Speakers include:
Malik Alibegovic - Interpol, Counterfeit Currency & Security Documents Branch
Joachim Caillosse - Document Security Workgroup, Secure Identity Alliance
Silvia Kolligs-Tuffery - Directorate-General Migration and Home Affairs, European Commission
Didier Martin - Division de l'Expertise en Fraude Documentaire et à l'Identité, French Ministry of the Interior
Joel Zlotnick - U.S. Department of State, Bureau of Consular Affairs, Counterfeit Deterrence Laboratory
Pierre Orszag, Agence Nationale des Titres Sécurisés (ANTS) - France