Seamless Borders: From Vision to Reality - Chapter 1 - July 2023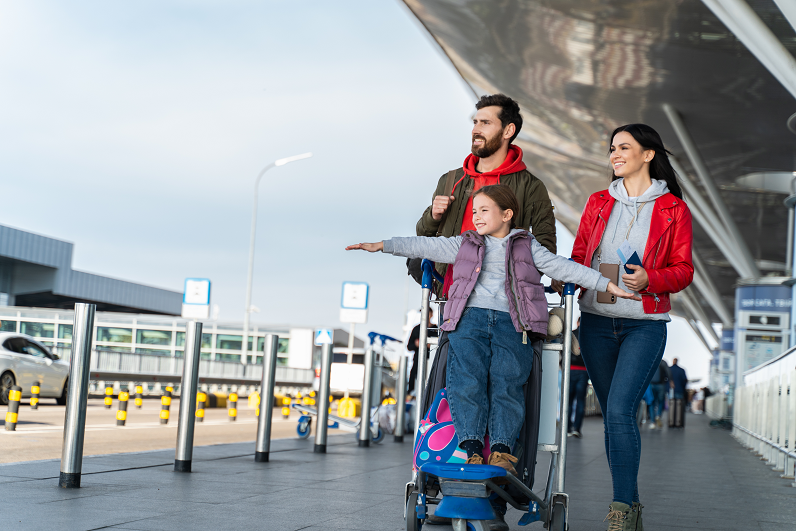 Long term shifts in traveller numbers are driving governments around the globe to rethink how to manage the smooth and compliant movement of a growing number of travellers through ports and across international borders. According to the World Tourism Organisation, more than 900 million tourists travelled internationally last year – a figure that is predicted to hit 1.8 billion by 2030 and 8.2 billion by 2037.

Facilitating the seamless movement of vast numbers of people in the most efficient way possible is just the start of the challenge. Ensuring the security of national borders and citizens is another top imperative—seamless borders aims to deliver an easier passenger journey and improved security, benefiting all stakeholders. This can be a challenge given constraints on space, time and resources. Efficient, seamless borders will be more able to handle high passenger volumes to avoid overloading capacity at ports which can quickly become apparent in long queues inconvenience for everyone.

This is driving industry bodies and governments to press ahead with digitalisation initiatives. Because, as IATA, the trade association for the world's airlines, notes: "Passenger traffic is projected to double by 2037. We will not be able to handle this growth or satisfy evolving customer expectations with existing airport capacity, current processes, facilities and ways of doing business."

The journey towards seamless borders

In the past two decades, the ways in which nation states manage borders and improve the security and ease of travel for citizens have been evolving rapidly, thanks particularly to the adoption of e-passports containing secure electronic chips, e-Gates and increasing use of biometric technologies.

Advance passenger information (API) systems, the delivery of digital boarding cards and visas direct to a passenger's mobile device, online check in and other self-services for passengers have also helped develop this environment.

E-passports are being developed further as Digital Travel Credentials (DTC) enabling a passport to be held securely on a cloud or in a smartphone, enabling the contents to be sent electronically with the holder's consent, in advance of travel. Further developments are taking place with mobile smartphones, growing availability of automated platforms, digital ID and contactless technologies that help streamline the travel process and deliver the intelligence and data border agencies need to work more efficiently and effectively.

We now stand on the brink of a new era in which seamless borders are set to become the next logical step for facilitating and expediting secure cross-border travel. Done right, this will have a transformative impact for border agencies, commercial carriers, port operators and travellers.
The seamless vision: a passenger perspective
Let's take a look at an example of how a seamless travel model could operate in practice.
When Mr and Mrs Brown decide to book an overseas holiday, they're able to search for flights and check the travel authorisation and entry requirements for their trip. To obtain the necessary authority needed to travel to their chosen destination country, they quickly take a live 'selfie' photo on their mobile phone and send that securely with the information from their digital travel credential (DTC: in effect their passport, in digital form) to the destination authority. In many cases they receive a near-instant approval online. If a full visa is required the system may help them to submit that application, too. Once they are good to travel they can proceed to confirming their flights and paying for their tickets. All relevant details are then automatically sent securely to the departure airport and authority, their carrier and their planned destination.

On arriving at the airport to join their flight, they head to departures where the check-in 'recognises' them using biometrics captured from their facial image. They deposit their luggage at the self-service baggage drop and automatically pass through a gate for to departures, having already completed all required electronic verification and physical security inspections. When their flight is called, they file easily through the biometric boarding gate and onto the aircraft.

Before arriving at their destination, they complete a declaration which is transmitted to the border authority on landing. In the arrivals hall, border pre-checks for many passengers will already have been completed and they pass through the landing exit gate to enter the country.
Seamless borders will simplify travel processes for passengers, making their entire end-to-end experience smoother, more secure and almost frictionless. There's no need to queue for baggage check-in or security controls and it's easy to comply with any visa or immigration requirements. Meanwhile, port and airport authorities are able to undertake the smooth transit of passengers without compromising on the security checks that are paramount for passenger safety. Seamless 'borders' are in fact much broader and will include several stages in a travel journey, not only admission to a country. The seamless concept includes all types of international travel and ports, too: land and sea ports, road vehicles, ships, foot passengers and trains, as well as airports and aircraft.
Counting the benefits
With seamless borders, port operators can utilise biometric identifiers and on the move technologies to initiate 'walk through' arrivals gates—potentially in due course corridors for use by multiple travellers at the same time. Enabling recognised and 'trusted' travellers – including categories like registered commuters and frequent travellers - to enter a country with minimal or zero intervention by on-the-ground border agency personnel, providing an expedited clearance for travellers

The idealised seamless end-to-end seamless border vision is an ambitious one. Streamlining the entire embarkation and departure process, travellers will increasingly be able their mobile device as a single point of access to book their travel arrangements, pre-authorise their right to travel to a destination, acquire all required approvals and documents, and demonstrate they are who they say they are.

Alongside enabling border agencies to work with one another to process low risk travellers through entry and exit controls in a secure and compliant manner, the transition to seamless borders will have a significant impact on how port and airport authorities manage passenger traffic flows through their facilities. Easing congestion and creating the capacity that will be needed to handle a growing volume of travellers.

Passengers are empowered to apply for visas and self-enrol their details for travel, which can then be digitally pre-screened, checked and pre-cleared by border authorities. Once armed with an electronic travel authorisation, they are then able to rapidly book tickets and facilitate their travel into and out of a country.

Meanwhile, border agencies can verify a traveller's identity, intent and entitlement in advance of a passenger's arrival and, importantly, prior to heading to a physical embarkation point. Agencies can also use data that is automatically collected at check-in and departure gate controls to determine when a foreign national has outstayed their electronic visa.

Operators and border control agencies recognise that not all passengers will be able to take full advantage of digital advances and it must still be possible for passengers to travel without having to adopt the latest technology.

Making it happen
Recent technological advances means that many of the constituent elements are now available to support the implementation of seamless border programmes and many travellers have become accustomed to applying for visas online, using eGates, and self-service check-in.

New initiatives are currently underway that aim to build on these programmes and ease the future of travel in innovative, optimised and integrated ways. For example, ICAO's passport digitalisation project aims to utilise an authenticated passport with verified biometric patterns to create a digital token that can support a technological verification chain. The introduction of this digital travel credential (DTC) could prove a game-changer that accelerates the digitisation of border controls but also for the airport journey. Making it possible for passengers to digitally submit their advanced passenger information and send their DTC for pre-border checks, and for border controls to deploy devices for fast facial recognition and traveller verification.

Similarly, airports, airline trade associations like IATA and airline bodies are engaged in initiatives designed to facilitate passenger flows and elevate the passenger experience. These include implementing an enrolment service at the point of departure using biometric check-in kiosks that create a token that can be issued or validated by the border authority and used at multiple gates (baggage drop, boarding).

Meanwhile, industry innovation trials are already in motion to elevate the performance and capabilities of contactless technologies. For example, the fastest way to capture fingerprint biometrics without inconveniencing travellers and capturing/verifying iris biometrics on the move.

All that remains is to find a way to pull these isolated approaches into a more cohesive and harmonised framework which will support the timely sharing of intelligence and data between national governments and make seamless borders a workable reality for passengers, carriers, and port authorities alike.