Taking Stock of Identity at the Border - Webinar Replay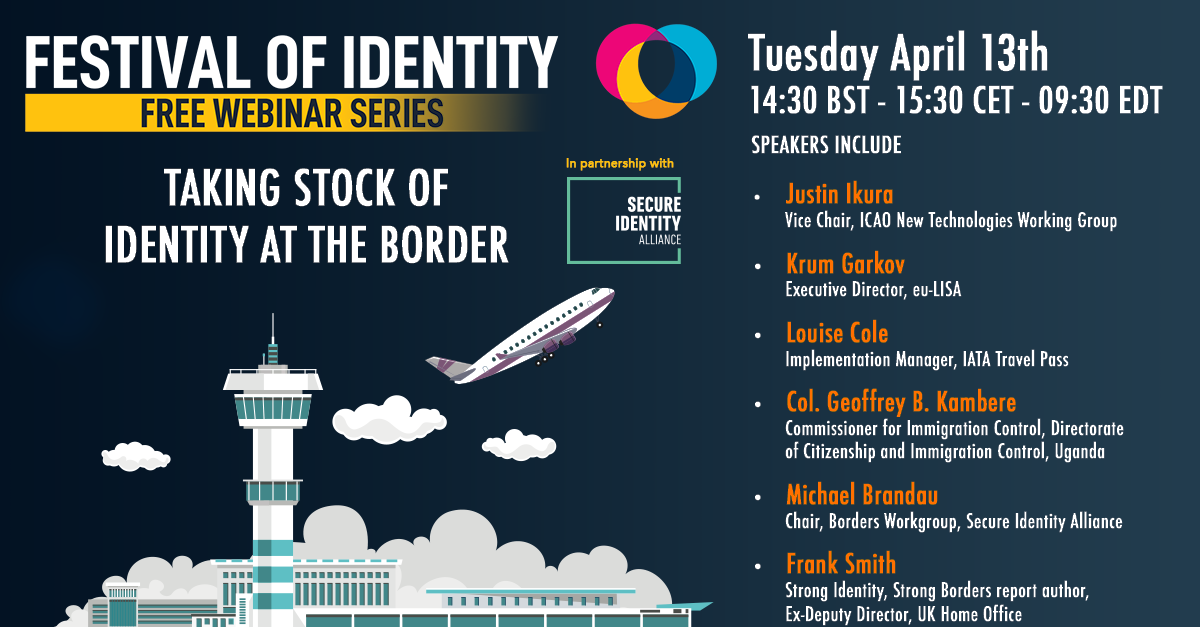 Taking Stock of Identity at the Border
13 April at 14:30 BST, 15:30 CET, 09:30 EDT
REPLAY: https://www.youtube.com/watch?v=4mlmkntsMWA
The last 12 months have been dominated by the pandemic. Getting control of COVID has dominated every agenda in every sector. For the travel industry, a near-total shutdown has reversed long-term, year-on-year increases in international traffic, and airports and airlines have faced major reductions.
As the world begins to contemplate lifting the shackles of lockdown and cautiously opening up, we are at a critical juncture for borders, travel and the role of strong identity systems.
As we finally begin to emerge from this global crisis, now is the right time to focus on how we start to re-shape the future.
This Festival of Identity webinar – presented in association with the Secure Identity Alliance (SIA) and identity stakeholders from across the world - is an opportunity to take stock, presenting a fresh look at where we are today. We will explore what the identity sector should be doing now, and ask what is realistic. We will pragmatically assess whether prior ambitions and targets are still feasible in the near term.
• As the world cautiously opens up passenger travel, what will the 'new normal' for border-based identity systems look like?
• Pragmatically, how will identity solutions for the border likely progress in the short to midterm?
• In a world where one size rarely fits all, how important is system interoperability to boost security, facilitation and trust in the passenger journey process,?
• What is the immediate future of health credentials, entry exit solutions, digital traveller credentials, large-scale biometrics and other innovative solutions?
Underpinning this webinar, is the launch of the 2021 version of Strong Identity, Strong Borders, a comprehensive guide to border control and identity compiled by the SIA. It introduces all the main themes crucial to effective border control, with many practical examples from around the world. The guide aims to facilitate common understanding and partnership between border specialists, and other critical stakeholders, such as airports.
Speakers include:
Matt Schneider Director, Land Border Integration and Biometrics Division, Planning, Program Analysis and Evaluation @ Office of Field Operations, U.S. Customs and Border Protection
Justin Ikura - Vice Chair, ICAO New Technologies Working Group
Krum Garkov - Executive Director, eu-LISA
Louise Cole - Implementation Manager, IATA Travel Pass
Col. Geoffrey B. Kambere cgsc (USA) - Commissioner for Immigration Control - Directorate of Citizenship and Immigration Control - Ministry of Internal Affairs, Uganda
Michael Brandau - Chair, Borders Workgroup, Secure Identity Alliance
Frank Smith - Strong Identity, Strong Borders report author, Ex-Deputy Director, UK Home Office