OSIA Gets Real: It's time to unlock the identity ecosystem - Webinar Replay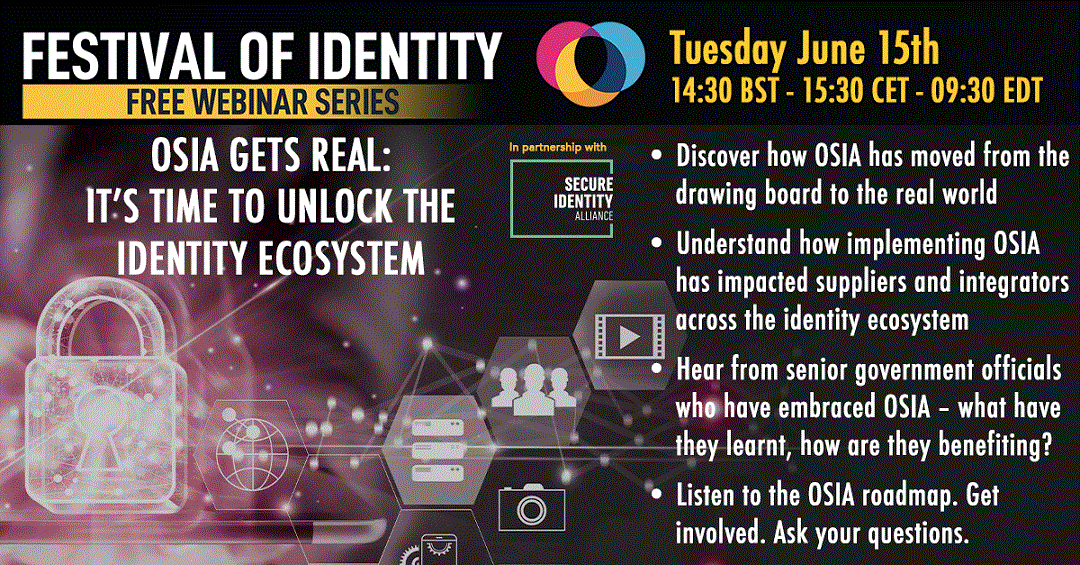 OSIA gets real - It's time to unlock the identity ecosystem
Tuesday 15th June 2021 14.30 BST - 15.30 CET - 9.30 EDT
REPLAY: https://www.youtube.com/watch?v=5gqak5bYFuE
Governments across the world are modernizing, evolving and expanding their country's foundational ID systems. Underpinning their work is the ambition to give every citizen access to a trusted legal identity and ultimately to deliver a new generation of secure and inclusive digital ID services.
This process is not without challenges – and the well-documented dangers of siloed approach and lack of system interoperability are potentially detrimental barriers to future development.
In 2018, the Secure Identity Alliance (SIA) launched the global Open Standards Identity APIs (OSIA) initiative. Among many benefits, OSIA promised ecosystem interoperability, giving governments the freedom to implement multi-vendor programs by mixing selected building blocks from different suppliers.


Since its launch, OSIA's impact has been meteoric, helping to unleash marketplace innovation and interoperability assurance, as well as empowering governments to build the foundations for a smarter citizen ID future.
This Festival of Identity webinar – presented in association with the Secure Identity Alliance (SIA) – will bring to life the OSIA story, its successes and the challenges:
• Discover how OSIA has moved from the drawing board to the real world, now being embraced by numerous governments around the world;
• Understand how implementing OSIA has impacted suppliers and integrators across the identity ecosystem;
• Hear from senior government officials who have embraced the OSIA approach – what have they learnt, how are they benefiting, what are their plans?
• Listen to the OSIA roadmap. Get involved. Ask your questions.