connect:ID 2021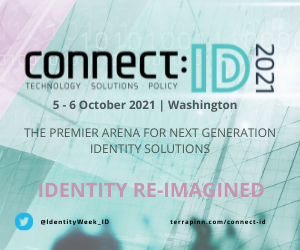 connect:ID 2021, 5-6 October, Washington
connect:ID is a world class identity conference and exhibition, showcasing the potential of trusted identity solutions, and highlighting how disruptive technology and policy decisions are driving much needed change.
New secure, seamless ID solutions are essential, as authorities seek to provide citizens with better ways to identify themselves, so they can vote, pay, travel, work, interact, and transact without impediment.
Join us at connect:ID 2021 to shape the future of global trusted identity. Whether you take part as a sponsor, exhibitor, delegate or visitor, connect:ID will provide countless opportunities to network, learn and do business.
Join us and thousands of others to explore the future of identity!
Website - IDENTITY RE-IMAGINED | connect:ID 2021 | 5 - 6 October 2021 (terrapinn.com)