Governance overview
The OSIA initiative is developed by the not-for-profit Secure Identity Alliance with the full support of its membership. It is governed under a formal structure including an independent OSIA Advisory Committee, with work carried out by the OSIA GitHub Community and an OSIA Workgroup. These bodies have transparent and publicly available terms of reference to guide intra and inter committee relations.
OSIA Advisory Committee
The OSIA Advisory Committee is an international advisory group consisting of members drawn from public and non-profit private organizations. They are bound to the SIA by an Advisory Observership. This group meets twice a year to review the progress of the OSIA Initiative, and offer strategic guidance for the initiative.


OSIA Workgroup
The OSIA Workgroup consists of experts in the fields of identity, security, privacy, and biometrics. These experts are Members, Associate Members and Advisory Observers of the SIA. The Workgroup manages the evolution of the OSIA functional and technical specifications. It also solicits feedback from the GitHub Open Community and has the power to control releases.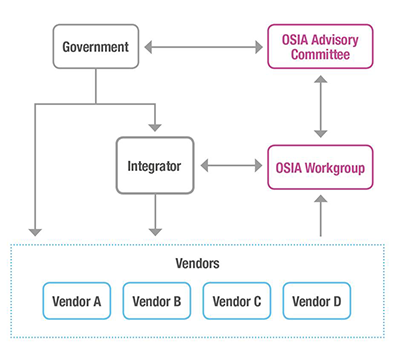 GitHub Community & license
OSIA is based on permissive free of charge (MIT) software license. The open source code has been published on the GitHub collaboration platform, where it is supervised by an external and independent consultant. Any country, technology partner or individual is free to download the functional and technical specifications to implement it in their customized foundational and sectoral ID systems or components.
Governments can also reference OSIA as Open Standards in tenders.
How to join the initiative?
Send us an email at
This email address is being protected from spambots. You need JavaScript enabled to view it.
You don't need to be a member of the SIA. To participate in the workgroup, you just need to become an Advisory Observer (this is the equivalent of signing a MoU).
'For profit' companies join the OSIA Workgroup - The annual fee is fixed at 2,5K Euros per annum excl. VAT
'Not-for-profit' organizations and governmental agencies join the OSIA Advisory Committee – Free
OSIA Advisory Committee Members
Chaired by Nigeria National Identity Management Commission (NIMC), represented by Mr Eng. Aliyu Abubakar Aziz, Director General/CEO

Côte D'Ivoire: represented by Mr Konaté Diakalidia, Directeur général, Office National de l'Etat Civil et de l'Identification (ONECI)
DRC, represented by Mr Musavuli Mbutho Moussa, Coordonnateur de la cellule technique, Cabinet du conseiller spécial du numérique au près du Chef de l'Etat
Gabon, represented by Mr Aimé-Martial Massamba, Deputy Director, The Official Biometric Identification Project of Gabon (IBOGA)
Guinea, represented by Mr Mory Camara, DG ANGEIE - Member of the Permanent Technical Team ANGEIE & National Agency for Economic and Social Inclusion
Guinea WURI, represented by Dr Dr Himi Deen TOURE, Technical Director of WURI (Programme d'Identification numérique pour l'intégration régionale et l'inclusion en Afrique de l'Ouest) and Mr Ibrahima Sory KEITA, Advisor Telecoms & Digital Economy
Lesotho, represented by Mr Tumelo Raboletsi, Director - National Identity and Civil Registry Department
Madagascar, represented by Mr Balsama Hellarison Andriantseheno, Coordinateur Général, Secrétariat Général de la Présidence de la République and Ms Salohy Norotiana Randrianarisoa
Sierra Leone, represented by Mr Mohamed M. MASSAQUOI, DG National Civil Registration Authority
Uganda, represented by Ms Judy Obitre-Gama, Executive Director, National Identification and Registration Authority and Ms Grace Nanyanzi, Manager, Information Systems, National Identification and Registration Authority
OSIA Workgroup Members
De La Rue, Gemalto – a Thales Company, Idemia, IN Groupe, Intercede, Laxton, Veridos and Keesing Technologies
Last updated 25th July 2019